Develop People, Help People, Protect People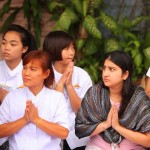 You cannot live just by yourself. Our life always involves relations with other people, and communications always influence our personalities.
Along with the progress in the medical and nursing-care scenes, there is a change in the required abilities in those fields.
In addition to advanced knowledge and skills, what is becoming more and more important is high communication skill to build proficient trust relationship with patients, service users, their families, and doctors and other staff at hospitals and facilities.
Asahi Nursing and Welfare Training Center trains and educates students with above emphasis, with the aim to develop industry-ready workers for medical institutions and nursing-care facilities in Japan as well as Japanese-affiliated corporations in and outside Myanmar.