Comprehensive Management & Support
Comprehensive Personnel Development, Management & Support to Meet Your Requirements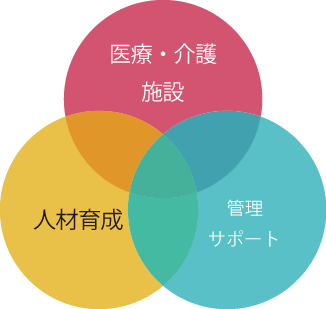 The background of our students is different from that of Japanese people with respect of language, customs, and mindset. To succeed in such circumstances, our students have much eagerness to achieve their goals. Experience and skills learned in Japan are big advantage to overseas personnel, and we expect them to be successful in various fields by active use of such advantage. The education at our Center includes teaching the meaning of going to Japan, preparing mindset before going to Japan, and enhancing awareness to the importance of one's job, all of which should work for our students to grow as better persons. We firmly believe that such education will develop personnel who are greatly helpful in medical and nursing-care facilities in Japan. At the same time, welcoming diligent and motivated Myanmar workers will lead to the further growth of your corporations, because that will certainly enhance the motivation of your current staff. We take care of our students through sufficient communications with them on a daily basis. We are committed to the development of excellent personnel.
| | | |
| --- | --- | --- |
| Contact | Hearing | On-Site Inspection & Interview |
| We values inquires from corporations, which is the initial step of our students into their bright future. | Our in-depth hearing of the requirements of corporations enables us to make the best proposal to you. | The local personnel-sending organization solicits candidate personnel. Strict screening by both written exam and individual interview is conducted. |
| | |
| --- | --- |
| Education Program | Entry to Japan & Employment |
| Overall education in the Japanese language, culture, and habits. Preparation for entry to Japan is started. | Our student training continues after their entry to Japan. We support them in the acquisition of the caregiver qualification, learning rules in everyday life in Japan, and communicating with local residents. |
We always assign two staff members in one case – one with the perspective of the employer and the other with the perspective of the student – for fair and equal effects to both sides. To respond to unexpected accidents and sickness of personnel, we basically dispatch our staff directly to deal with the issue, but also prepare the Emergency Sheet at both sides in advance, so that the issue can be smoothly handled even if the dispatch of our stuff is not practical to solve the issue at the earliest opportunity. In addition, we understand your possible concern that the language issue can be substantial risk. Therefore, our education curriculums put emphasis on natural and smooth conversation in Japanese. In addition to the Japanese language proficiency, we also provide education in the culture, customs, manners, and living habits in Japan, so that our students are able to enhance their overall ability and be successful in the future.